About
Celebrating Ingenuity: Join us for a Project Expo Featuring Creative Projects!
The Innovation and Incubation Cell (IIC) of NIT Puducherry, brings a great opportunity for young minds of our Nation to show their Technical Expertise and Prowess through this PROJECT EXPO and win exciting prizes.
A Project Expo is an event where students, researchers, or other creative individuals come together to showcase their innovative projects to an audience. Project Expos provide a platform for participants to share their work with the public, gain feedback, network with peers, industry professionals, or investors, and create opportunities for collaboration, partnerships, or funding. They also offer a chance for visitors to explore new ideas, learn about emerging technologies, discover cutting-edge research, and appreciate the creativity and ingenuity of the presenters.
Whether you're a student, educator, entrepreneur, or just someone who loves innovation and creativity, a project expo is a great way to see the future in action and be inspired by the endless possibilities of human imagination.
Cash Prize worth Rs. 10k
Rules
Participants are expected to present their innovative working models/prototypes on the day of the event.
The competition is open to undergraduate students from a variety of disciplines, including engineering, diploma, medical, arts and sciences, agriculture, and others.
There can be a maximum of 3 participants per team for the project presentation.
A team member can participate in only one project presentation.
All participants must register for the event using the link given below on or before 24th February 2023. Link for Registration
Registration fee: Rs.250/-.
Participants must exhibit their project in the event of GYANITH'23 on 2nd March 2023.
The exhibits will be assessed by a team of experts from NITPY. Their decision will be final.
Selected projects will be awarded with prizes and merit certificates. Certificate of participation will be given to all participants.
The participating college/team would bear all expenses and make their own travel arrangements. Only refreshments will be provided to the participating team.
Participants are requested to attend the event with their college identity card.
All the students should report at Science Block, NITPY by 9:30 a.m on 02/03/2023
Brochure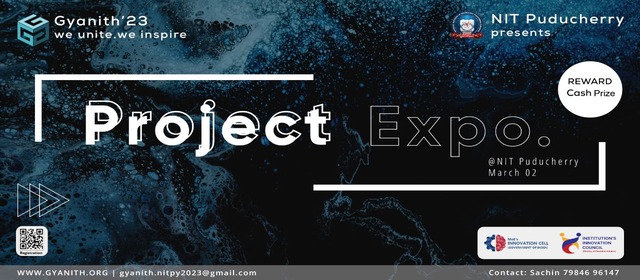 Registrations
Registrations will be done by the Google Form provided above.
The details provided by the participants during registration shall be genuine, otherwise strict action shall be taken.
Only after the payment, the registration gets accepted.